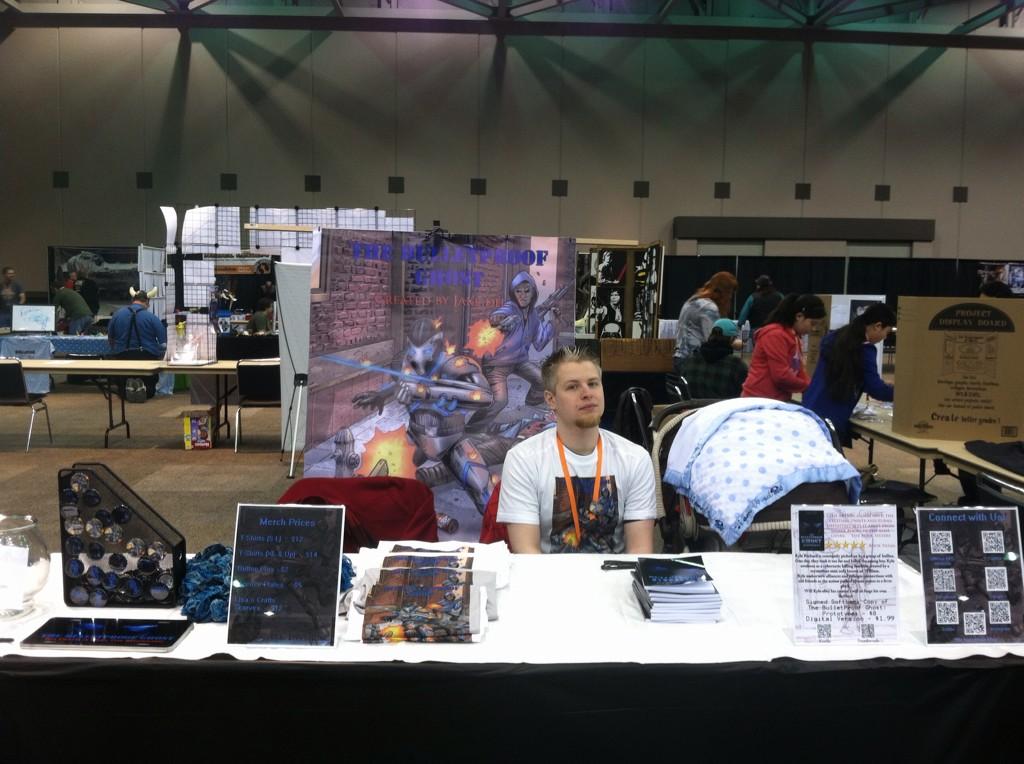 Geek Galaxy has come and gone, but what's next for The BulletProof Ghost?
If you read this blog or frequent the Twitter feed, you'll know that last weekend, I took The BulletProof Ghost to Geek Galaxy. GG is a local comic convention, which is in its first year. The picture above shows my booth, which had all types of neat swag, including the actual novel, The BulletProof Ghost: Prototypes.
The con itself went about how I expected. I didn't sell a ton of books, but I made several solid social connections, some may even lead to other work. One in particular may lead to short stories of mine appearing in a comic anthology. Which is neat.
This was my first convention and therefore a learning experience. I wasn't looking to strike it rich and several people heard about the book that came to the booth.
The next six months will have several developments. First off, the second book, The BulletProof Ghost: In Spades, will be released by then. A free preview for In Spades will be posted here before Christmas, is all goes well. The next week will give me a bit of free time and I really need it.
The other big event will be EvilleCon. This is an anime convention that I've gone to once before, but as a consumer, not an exhibitor. I personally talked to one of the people running EvilleCon (calls himself The Ox King, and he looks the part). He said that there will be several authors there, so hooray!
I may have a store up, but after GG, I may not. The demand for the non-book merch is a little low at the moment, so I'll wait until that picks up before putting in the effort.
Thanks for the support. Be sure to follow me on Twitter for current updates @TheBProofGhost and keep an eye on the website as well.
www.TheBulletProofGhost.com
. Stay tuned.
-Jake dh